Geek Planet Online review
Some games are designed to last. Chess has been around for thousands of years... Tri 3D takes some of the concepts of these old games: simple rules, strategy, abstraction, and incorporates them into a three dimensional board that forces players to concentrate on what is above and below their pieces as well as around them.
...
Tri 3D is a deceptively simple game that offers strategy and tactics, all in a small box with neat components at only £14.99. This is a superb product from a new company. Although the product isn't flawless, if you are a fan of abstract strategies, and would like the challenge of a three dimensional aspect, this is well worth trying.
Read the full review at Geek Planet Online - Tri 3D
Toy Talk
Tri 3D is the three-dimensional strategy game from PaNic Games, which aims to appeal to serious strategy game-players and family boardgamers alike...
Read the full review at ToyTalk.co.uk
UK Games Expo 2010
Come and see us at the UK Games Expo in Birmingham, 5th and 6th June 2010.
If at first you don't succeed, Tri again
A BRIGHT idea during a traffic jam has resulted in the country's latest board game.
IT worker Paul Young admits he comes up with many wacky business ideas which he fails to make a reality but the one for Tri 3D was just too good to ignore.
He immediately drove home and created a prototype using a tube of Pringles and some cardboard. Four years later and after investing £16,000 of his own money, the 32-year-old has put his game on the market.
Tri 3D is for two to three players and uses a unique three-tiered triangular board. The aim is to take as many of your opponents' pieces as possible.
Mr Young said: "It is easy to learn but the skill comes in when you look at the best way to use all three levels at the same time."
The game is manufactured in the UK and boxed at Mr Young's home in Hailsham.
He sold 200 to 11 retailers at the NEC Spring Fair in Birmingham.
Tri 3D costs £14.99 and a list of stockists is available at www.tri3d.co.uk.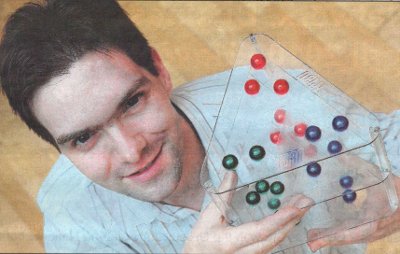 Father invents new board game
A BOARD GAME enthusiast has invented a new game for people of all ages to enjoy.
Paul Young, aged 32, lives in a 160 year old cottage in Battle Road, Hailsham, with his wife Nichola and baby daughter Isabel.
Mr Young, who works in IT, came up with the idea of 'Tri 3D' in 2006 and he has spent the past four years developing the idea ready to sell as a commercial product.
Last year he set up PaNic Games Ltd to market the game.
Mr Young said: "Tri 3D is a brand new 3D strategy board game for two or three players aged eight to adult.
"It is played on a unique three-tier triangular board and it is easy to play.
"While anyone can learn to play, more experienced players will find the game both challenging and competitive."
The board game involves players moving one space at a time in any direction around the board.
They attempt to capture other players' counters by either cornering them or surrounding them on two sides.
An extra dimension is added by the game rule of jumping between platforms so players can sneak up on each other.
Tri 3D has just been launched to retailers priced £14.99.
For details visit www.tri3d.co.uk